What are Uterine Adhesions ?
Uterine adhesions are tissues like structure that are attached to the inner wall of the uterus called the endometrium. These are generally caused by infection or some injury to the endometrial tissue during surgery. Adhesions can be mild flimsy ones that are esy to clear or they can be thick bands.
How do I know if I have adhesions ?
Generally if the endometrium is thin or diffuse on trans vaginal sonography , this might be due to presence of intra uterine adhesions. sometimes if you have adhesions if you might experience irregular bleeding or scanty bleeding. In terms of fertility, patients will find it difficult to conceive in the presence of adhesion and can also lead into missed abortions. 
How can adhesions be treated ?
Uterine adhesions can be removed by a minor procedure called hysteroscopy. Hysteroscopy is the most accurate method to evaluate intrauterine adhesions and is a procedure in which a thin telecscope like instrument is inserted through the cervix to allow the clinician to directly see in the uterine cavity. Once we see the adhesions inside the uterus they can be cut using the operating hysteroscope. The operating hysteroscope is the one with a scissors attached to the scope and these will help us cut the band of adhesions. If the adhesions are dense the clinician will keep a balloon in the endometrial cavity so that these don't occur again. Post the surgery hormonal treatment is provided with antibiotics which help to improve the endometrial thickness and improve the cavity. 
Can a patient with uterine adhesion conceive ?
YES , a lot of patients with uterine adhesions conceive. In such cases the patients have to give the endometrium time to heal and re-grow. But they will conceive. At Jilla IVF we have had a lot of patients who have had adhesions and have conceived.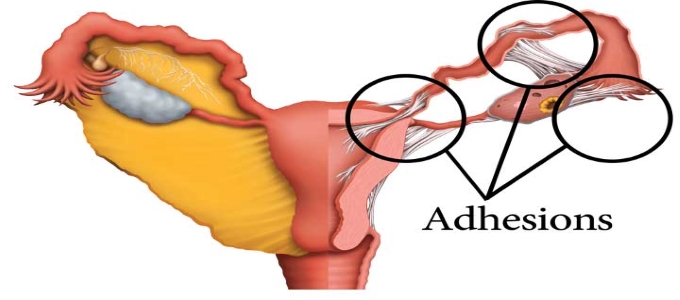 A word from Jilla IVF:
The image here shows intra uterine adhesions as well as adhesions outside the uterus. These can be removed by doing a laparoscopy and Hysteroscopy. Post which the patient can conceive. Having uterine adhesions is not a good sign and these cases are difficult to handle. But removal of adhesions and rebuilding the uterine cavity will help them conceive.